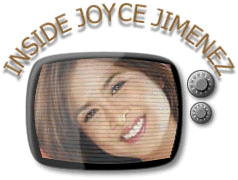 Miss Photogenic
Miss Phil-USA Hollywood 1996
Titles
"Pantasya ng Bayan" , "Joyce of Sex" , "Joyce to the World"

Personal Details
Real Name: Joyce Reintegrado
Screen Name: Joyce Jimenez

Age: 23
Birth Date: 21 March 1978
Birth Place: Los Angeles, California

High School: Bishop Amat HS in L.A.

Wallpaper
Download Joyce Jimenez Wallpaper.

Gallery
> Photo Album I
> Photo Album II
> Photo Album III
> Photo Album IV

Articles & Interviews
> Joyce Jimenez - Days of heaven after Scorpio Nights.
> The joyce of men's fantasy.
> The joyce of summer.